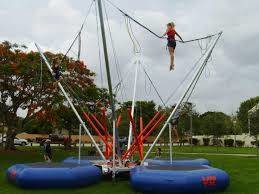 4 station bungee jump




$1,200.00

Please call to reserve this item.

Size: 30' L x 30' W x 24.5' H
One 110 volt dedicated line required.
Our four station trampoline enables a person to jump over 2 stories high (20'-26') into the air and perform gravity defying maneuvers, flips, and somersaults that make everyone feel like a professional gymnastic . Our 4 station Bungee Trampoline can accomodate approximately 60 people per hour!